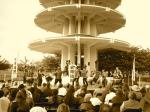 Emy, fellow classmate from SFSU (she's the one on the second from the right kind of drumming non-chalantly) was performing with her brotha's and sista's from the
San Francisco Taiko Dojo
last weekend at the peace plaza in the
Cherry Blossom Festival
here in SF. They also performed in their Taiko Festival that day, which I couldn't attend since I was at the
crazy madness
at Jerry's.
I love Taiko, though, and Emy described it once to me how it's a very spiritual experience for her. I believe it. From the dojo's
website
:
According to Grand Master Tanaka, physical strength and stamina are critical, and his students are put through a disciplined and strict physical regimen, in addition to hours of pounding on drums. Yet, he also stresses that it takes more than physical strength to make the drums thunder. "Big muscles can produce a big sound," he said, "But the quality of the sound comes from inside—a flow from the performer to the drum, or Ki. To Grand Master Tanaka, the ultimate challenge is reaching the point of unity of drummer"s spirit with the drum.
Very cool awesome indeed.