Originally, with plans to go indulge in
CalShake
's production of Shakespeare's
Alls Well That Ends Well
--I eventually ended up chatting with Chinatsu from my Astronomy class and had her coming with me.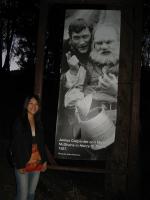 Well, I thought, this would give her some idea of wine-drinking, smug, intellectual (or wannabe intellectual!) Americans. =)
As for the production itself: absolutely incredible! My English comprehension has withered like sweet raisins, but despite which I fantastically enjoyed myself. James Carpenter played the King, and the scene where he is forcing Bertram to marry Helena had the whole audience at the tip of their seats. His energy and fury could be felt rumbling throughout the evening walls of the theater.
L. Peter Callender was Lafew, in a part that was made for a humorous version of James Earle Jones. I couldn't help but to laugh at every word and giggle that came out of the man's mouth. (He also played in
Dr. Doolittle
, hehe!) As was the same for Colman Domingo, who played Lavache. Haha, too funny!
Big big thanks to Carol, for the ticket hookups!