Joyce Fong has given me an opportunity to introduce myself to her blog. Her newest post inspired me:

i was watching one of those friday the 13th movies and i needed to watch something really happy after so i wouldnt' get nightmares. so i watched cinderella. that night, i had nightmares of cinderella wearing a hockey mask. it was kinda freaky.
No doubt, I just had to have a response to this!!! Look on for the monster I've created!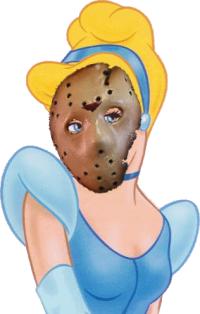 Oh, please make it all go away at midnight!!