This sofa was on my back: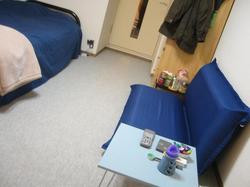 You may be wondering why this one's blue and the one in the other picture is white. The white one's Hiroko's, and I helped get hers to her apartment. Mine is blue, and is sexier!
I've got some more photos of the rest of my room, so maybe you can get a better feel for the size of the place.
[updated: 03.24.2004, added 'action figure' photo]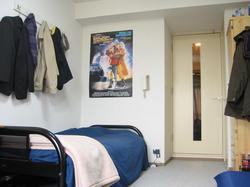 That's right, kids: that's a Back To The Future 2 movie poster on my wall. Booyah!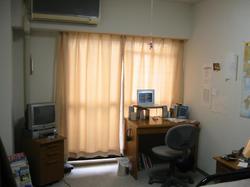 Ah, my sexy iBook on my desk. I sit there a lot (in fact, I'm seated right now!), and I get a view out the window, and I can watch TV/play PS2 while reading my e-mail. Sexy.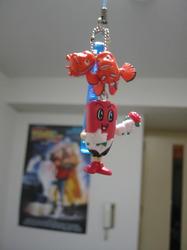 Here's the so-called "action figure" that was first noted by Estella Tse in the "iBook" photo. It's actually... Nemo(!), Nemo's dad, and a Tuna Sushi with arms and legs. You can win these sushi figures at a local sushi boat place, and they've got one for each dish. This whole thing's hanging down off my light; it's common in Japan to have a light on your ceiling with a line on it to turn it on/off. So, I decored it with my usual sillyness. Was annoying at first, and now I'm used to it. =)