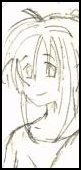 OK, I've got a set of sketches scanned up. These were done around a year or two ago. If you're knowledgeable of geeky things, you may recognize one or two of them. The rest are just some silly little sketches I did.
Baseball season's started up again, and the A's and Giants are out and ready to roll. Unfortnately, since I have work, I can't catch as many games as I'd like. Nonetheless, I'm sure I'll have my fair share of games to see. Since I'm both a cheap bastard and not a rich bastard, I've started getting cozy with AM radio again to listen to A's games. In fact, I was just listening to Anaheim getting swept up like the fools that they be! Ha!
Also, the other day, I got a chance to twiddle my thumbs to the newest Zelda: The Wind Waker for the GameCube. The graphics are absolutely breathtaking; it reminds me of a Disney movie! Also, I love watching that cute little Link hop around on screen. Aww, so cute!