Not un-like the soft rustling of tangerined leaves whistling through autumn's hazy lights, I venture back to one of my various homes: Berkeley. There, in the stereotypically PC, liberally infested, and student rampaged town, I spring once more to the only cafe that I can call my own: Espresso Experience. At times when I decide to journey on to other venues, I dare not commit caffeinated adultery by ordering the same drink that I always do here. Blasphemy!
Here, snuggled comfortably about the usual chair at the window, observing pedestrians and pathetic parallel parkers when occasionally veering up from the current reading material (today, it's Yukio Mishima's horrendously bleak Confessions of a Mask), I take a touch of drink and sporadically lose my place.
I talk to the bus boy who I'm surprised is still there since last I saw him; he's always in a cheery mood wearing a backwards cap and cleaning the place in his half-rugged half-gentle manner.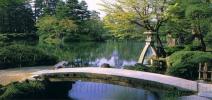 A piece of postage from Janet came for me today. It's a late New Years card. What a funny gal! And just the other day, I received a postcard from Nonaka-san from Japan that's completely written in Japanese, and I can read it all. I'm quite impressed with myself at my remarkable ability to comprehend extremely basic Japanese.
I still must stretch my vocabulary so that my Japanese will have incredible oosamu pawaa.
I will end on a sad note: Oolong has finally departed. It's quite sad.