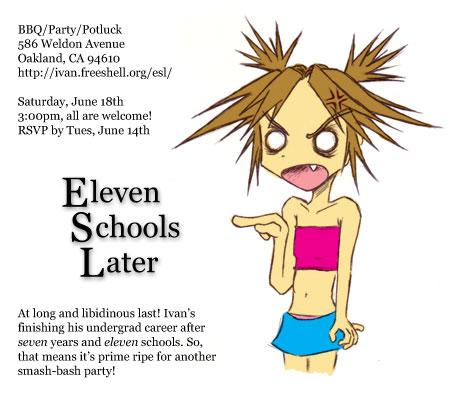 -5178 days until E.S.L.!
-5182 days until the official
RSVP
ends.

At long freakin' last, moi, Ivan Tse, shall be retiring myself from student life and moving on to the Big Bad Real World. So, in the long-standing tradition of Ivan-ness, a party of massive proportions is required to pop the cap on this pompous phenomenon of post-pupil promotion.
To more-so mark the occasion to its fullest flagellation, I'll be taking a shot of some sorts of ridiculous alcohols for each of the eleven schools I've attended:
Pitzer College
Pomona College
Harvey Mudd College
Laney College
Merritt College
UC Berkeley (Extension/Summer)
Vista College
Alameda College
Foothill College
San Francisco State University
Kyoto University of Foreign Studies
Who: If you're reading this then you're invited!
When: June 18th, 3:00pm
Where: Ivan's home in Oakland, CA!
What: Big Party! Big BBQ! Big Potluck! Just come!
Need help on getting to the smashing bash? Check out the directions or let google maps help you.
586 Weldon Avenue
Oakland, CA 94610
google maps

See who else has replied already. Could not connect : Can't connect to MySQL server on 'temp.daytse.com' (61)